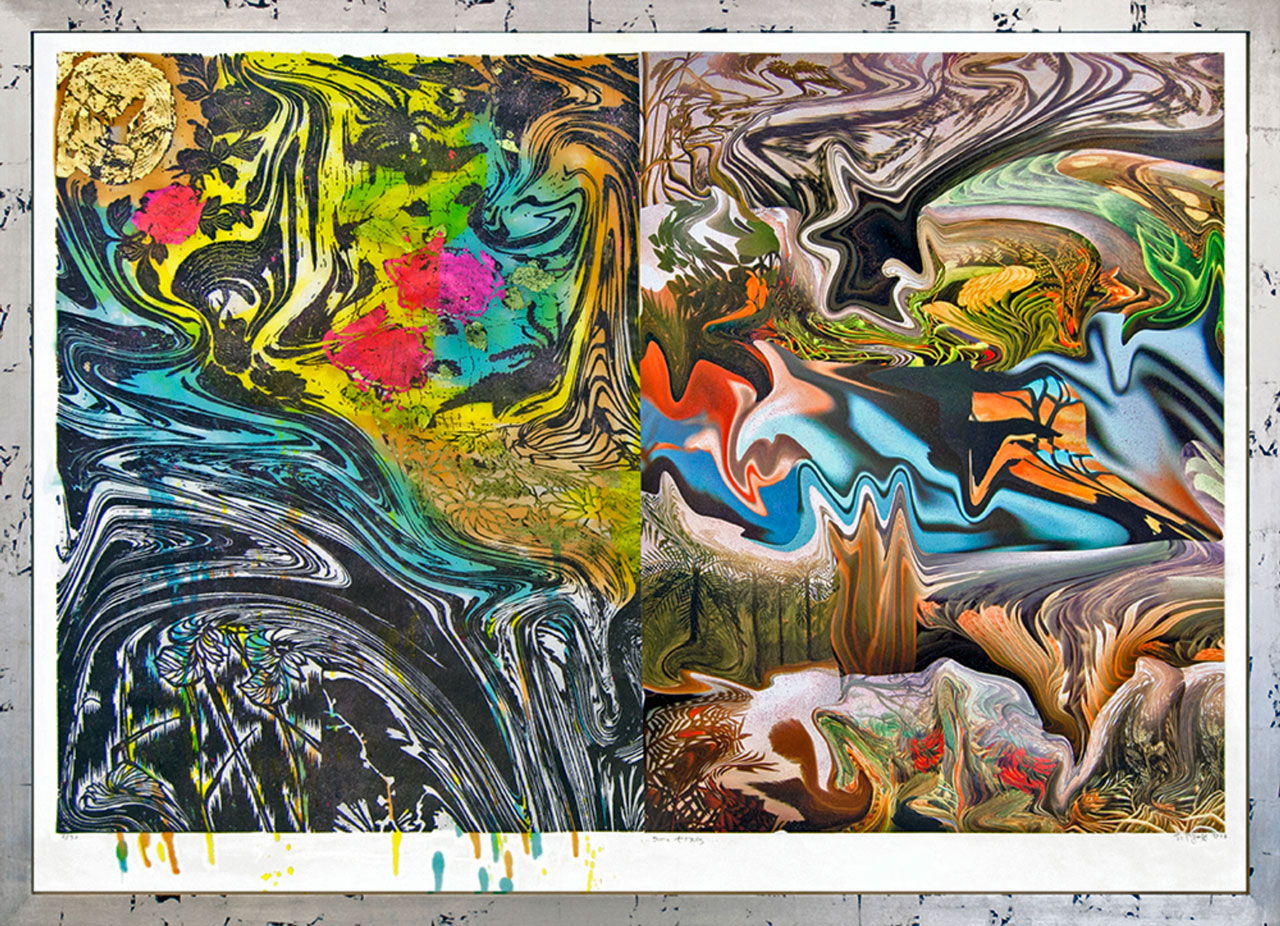 ...two foxes..., 2017, Woodcut, hand painted dye, colored silver leaf, archival inkjet, varied edition 30, 48 x 70 inches framed
Click to enlarge image
Judy Pfaff
Judy Pfaff was born in London, England, in 1946. She received a BFA from Washington University, Saint Louis (1971), and an MFA from Yale University (1973). Pffaf has received a MacArthur Fellowship, Guggenheim Fellowship and several National Endowment for the Arts grants. Pfaff is a recipient of the International Sculpture Center's Lifetime Achievement Award, an Academy Member Fellowship at the American Academy of Arts & Sciences and Anonymous Was A Woman Award.
Pfaff is a pioneer of site-specific installation art in the 1970s. For the past thirty years Judy Pfaff's irreverent, idiosyncratic drawings, sculptures and installations have regularly challenged expectations to produce an art of great originality and strong emotional impact. Pfaff works spontaneously and improvisationally using many mediums and materials.
Pfaff's drawings, prints and sculptures are exquisite.
Pfaff has had numerous solo exhibitions and group shows in major galleries and museums in the United States and abroad. She represented the United States at the San Paulo Biennial in Brazil. Pfaff's art studio is currently in Tivoli, NY.
SELECTED PUBLIC COLLECTIONS
Museum of Modern Art, NY
Whitney Museum of American Art, NY
National Museum of Women in the Arts, Washington, DC
Brooklyn Museum, Brooklyn, NY
Albright-Knox Gallery, Buffalo, NY
Detroit Institute of Art, Detroit, MI
The High Museum of Art, Atlanta, Georgia
Seonhwa Art and Culture Foundation, Seoul, Korea
Elvehjem Museum, Madison, WI
Sammlung Ludwig Museum, Aachen, Germany
For the complete biography, please
download the PDF
.
var art=[];art[0]=['The Three Fishes','2017','print','Woodcut, hand painted dye, colored silver leaf, varied edition 30','http://elenazang.com/wp-content/uploads/2018/04/JPTHETHREEFISHESWeb.jpg','57 x 37.5 inches framed'];art[1]=['Jaipur Series','2013','painting','Encaustic on various papers','http://testing.elenazang.com/wp-content/uploads/2015/06/JPJa.jpg','17" x 21"'];art[2]=['Certain Twilights','2008','painting','encaustic, inks, oil stick on paper','http://testing.elenazang.com/wp-content/uploads/2015/06/JFCTA.jpg','53" x 57"'];art[3]=['Tlon, Uqbar, Orbis, Tertius','2002','print','etching, relief','http://elenazang.com/wp-content/uploads/2017/11/JUDYTUOT.jpg','16 x 100 inches'];art[4]=['Nymphaea','2000','print','Etching','http://testing.elenazang.com/wp-content/uploads/2015/06/Nymphea.jpg','11" x 66"'];art[5]=['Untitled Series #9','2014','painting','Encaustic on various papers','http://testing.elenazang.com/wp-content/uploads/2015/06/Judy-Pfaff.3.jpg','9.5" x 28.5"'];art[6]=['Ghost Story','2000','photography','Photogravure','http://testing.elenazang.com/wp-content/uploads/2015/06/JP9a.jpg','30" x 77"'];art[7]=['Target, Fern','2000','print','Litho, etching, collograph, and wax','http://testing.elenazang.com/wp-content/uploads/2015/06/Judy-Pfaff.7.jpg','37" x 57"'];art[8]=['Origami','2005','print','Collograph, intaglio','http://testing.elenazang.com/wp-content/uploads/2015/06/Judy-Pfaff.6.jpg','96" x 34"'];art[9]=['Target Garden II','2000(14)','print','Print, handpainted encaustic','http://testing.elenazang.com/wp-content/uploads/2015/06/Judy-Pfaff.5.jpg','40" x 87.5"'];art[10]=['...two foxes...','2017','print','Woodcut, hand painted dye, colored silver leaf, archival inkjet, varied edition 30','http://elenazang.com/wp-content/uploads/2018/04/JPTWOFOXESWEB.jpg','48 x 70 inches framed'];