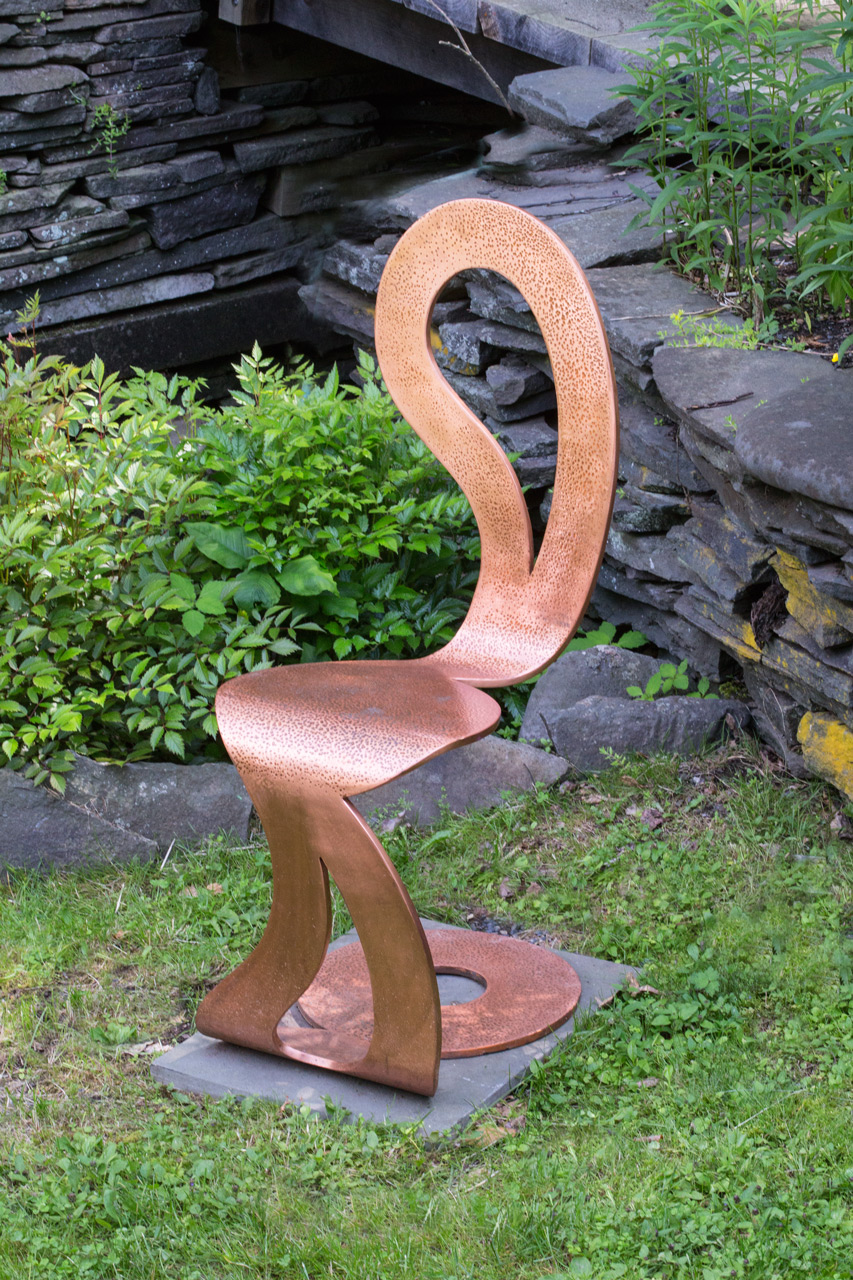 Chair 2, 2008, Copper, 4.5' h
Click to enlarge image
Alan Siegel
Alan Siegel is best known for his chair sculptures. He works in various metals and wood. He is a graduate of Stanford and Columbia Universities and is a Fulbright Scholar. He currently resides in Woodstock and San Miguel, Mexico.
SELECTED PUBLIC COLLECTIONS
The Aldrich Museum of Contemporary Art, Ridgefield, CT
The Baltimore Museum of Art, Baltimore, MD
Chase Manhattan Bank, New York, NY
Coca-Cola, Atlanta, GA
Cornell University, Ithaca, NY
The Fine Arts Museums of San Francisco, M.H. De Young Memorial Museum and California Palace of the Legion of Honor, San Francisco, CA
Hunter Museum, Chattanooga, TN
Madison Art Center, Madison, WI
Marion Koogler McNay Art Museum, San Antonio, TX
Mark Twain Bancshares, Inc., St. Louis, MO
University of Massachusetts, Amherst, Mass.
The Newark Museum, Newark, NJ
The Philbrook Museum of Art, Tulsa, OK
Prudential Insurance Company of America, Newark, NJ
Whitney Museum of American Art, New York, NY
Worcester Art Museum, Worcester, MA
University of Massachusetts, Amherst, MA
For the complete biography, please
download the PDF
.
var art=[];art[0]=['Crab Chair','2010','sculpture','silicon bronze & stone','http://testing.elenazang.com/wp-content/uploads/2015/06/Alan-Siegel-Crab-Chair.jpg','5' h'];art[1]=['Chair 1','2010','sculpture','silicon bronze & stone','http://testing.elenazang.com/wp-content/uploads/2015/06/Alan-Siegel-Chair-1-e1433943039353.jpg','5' h'];art[2]=['Chair 2','2008','sculpture','Copper','http://testing.elenazang.com/wp-content/uploads/2015/06/Alan-Siegel-Chair-2.jpg','4.5' h'];